Water-related findings in new Conservation in the West Poll
The Conservation in the West Poll of voters in seven Mountain West states has once again found bipartisan backing for protecting the region's water, land, and other natural resources.
Since 2011, Colorado College's State of the Rockies Project has released its annual survey, which probes public attitudes toward environmental and natural resource issues in Arizona, Colorado, Montana, Nevada, New Mexico, Utah and Wyoming (see my earlier post for an analysis of water-related data in the 2016 poll).
The  survey, which is conducted by a bipartisan team of pollsters, has consistently found strong support for protecting the region's natural resources. The 2017 poll was no exception, as shown in the graphic below.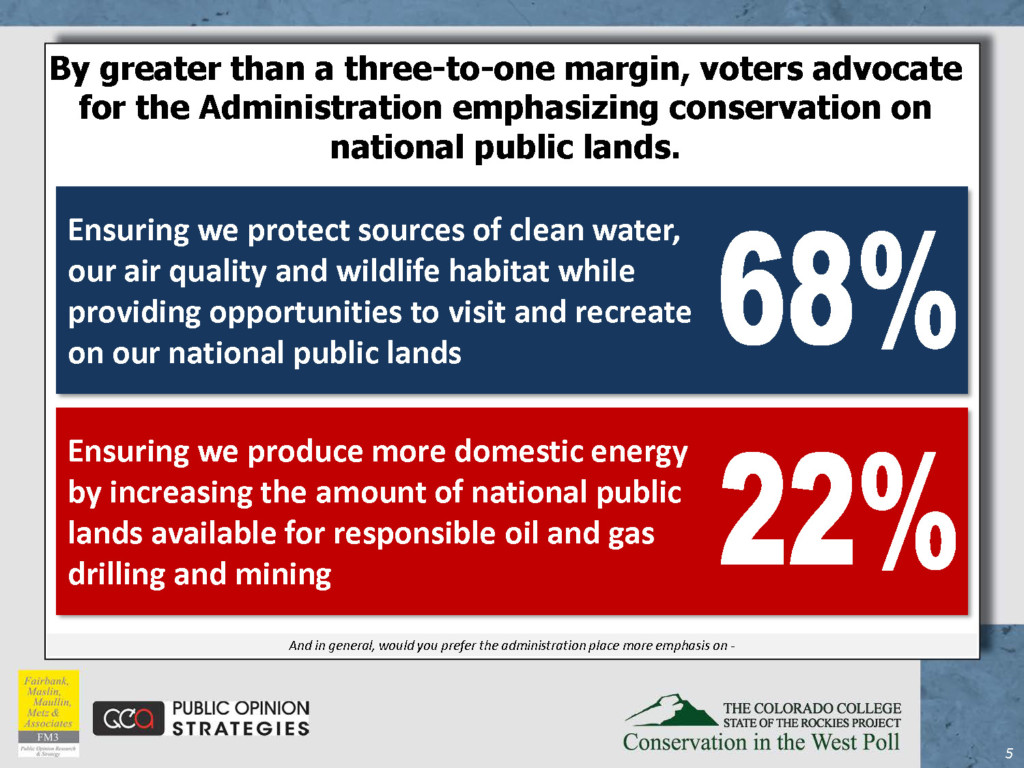 "The national political winds change direction every few years, but a passion for the outdoors and strong support for American public lands remain constant in the Mountain West," Montana Governor Steve Bullock said in a press release announcing the new results.
Below are four findings related to water that I took away from this year's survey (if you have others, please leave a comment below or drop me a line!)
1) Low river levels troubling to Westerners
One of the most interesting findings in this year's survey is the high level of worry related to "low levels of water in rivers," which ranked number one among the problems presented to respondents. It even beat out "our dependence on foreign oil" and "unemployment." The survey was conducted in December 2016 and January 2017, when many parts of the West were experiencing fairly wet weather, but after years of drought, rivers such as the Colorado remain depleted and Westerners are still troubled. The graphic below also shows that three-quarters of voters rated the "pollution of rivers, lakes and streams" as an extremely, very, or somewhat serious problem.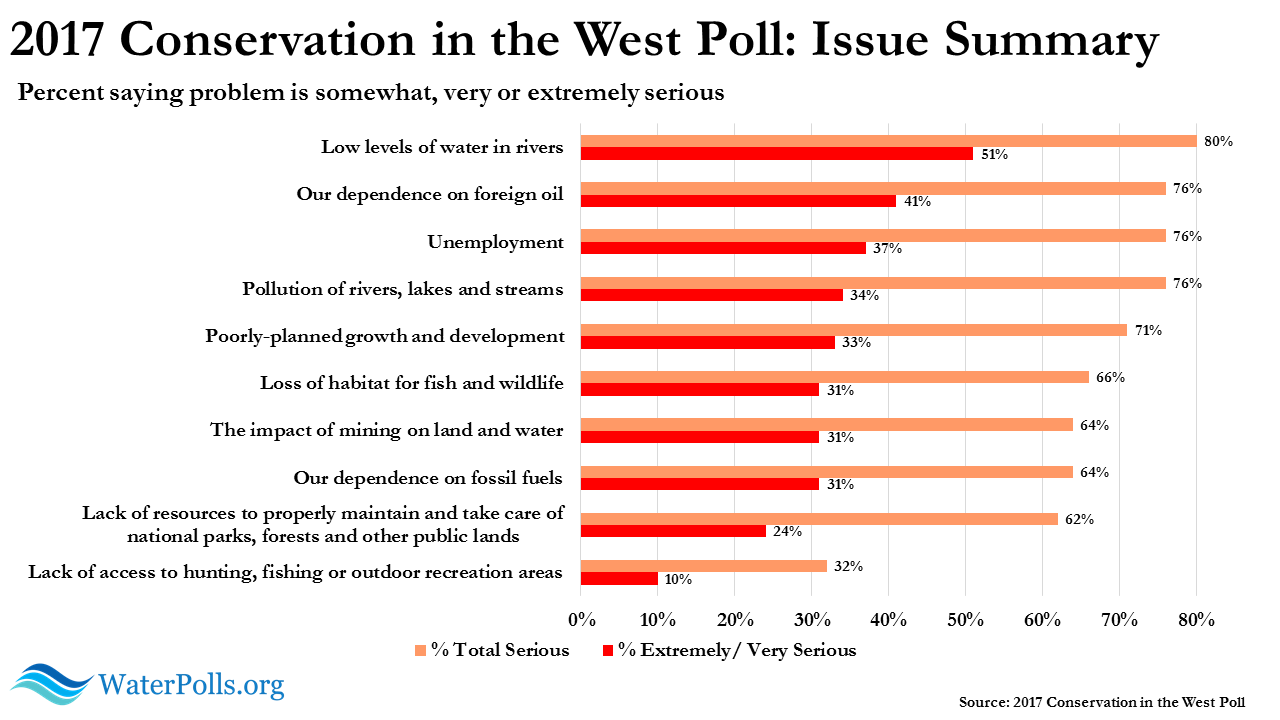 2) Water concerns vary across the Mountain West
Many of the surveys I've written about on WaterPolls cover either the entire nation or an individual state. The Conservation in the West Poll examines seven states and allows us to gauge how public attitudes vary across a sizable region that is politically, economically, ecologically, demographically, and geographically diverse.
Below are two graphics showing how Westerners in the seven states rate the severity of two water problems. With "low levels of water in rivers," 51% of the total sample said it was an extremely or very serious problem, but that figure ranged from just 16% in Wyoming to 66% in Nevada. The varying weather conditions across the region may be at play, but there was also a range in responses for water pollution. Overall, 34% of voters in the seven states rated that as extremely or very serious, with the lowest level of concern once again in Wyoming at 11% and the greatest worry in Nevada at 44%.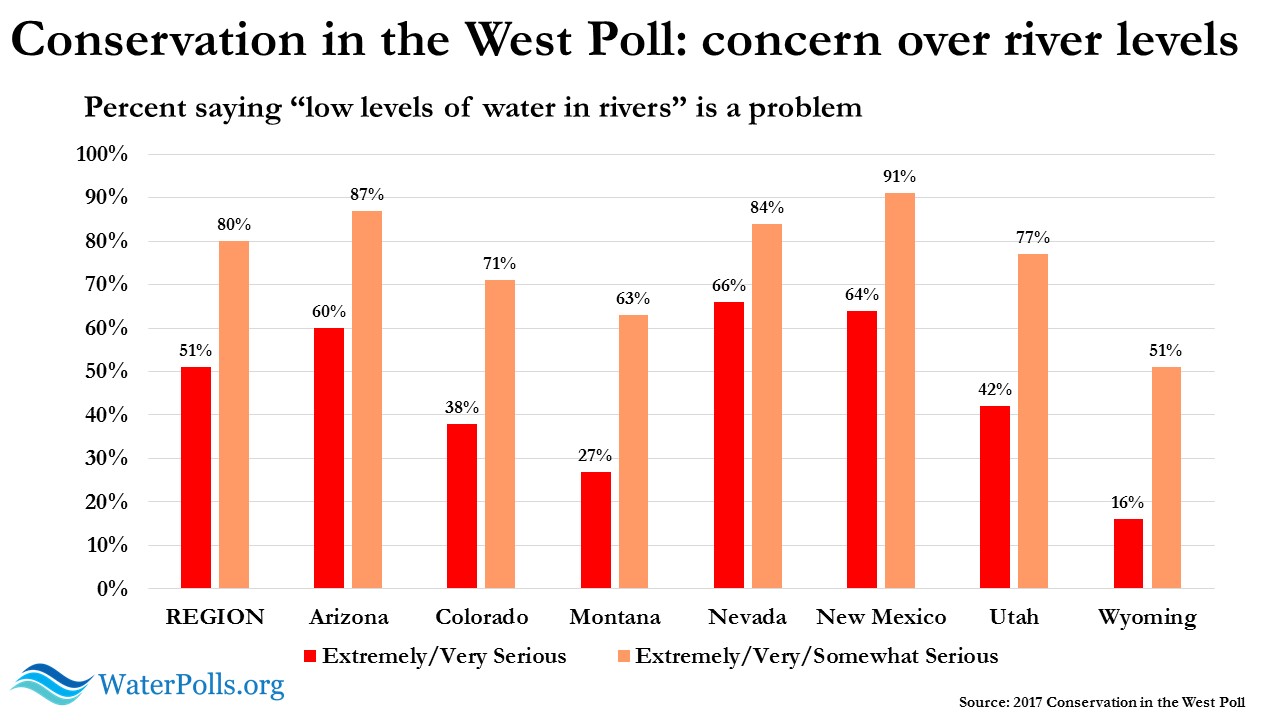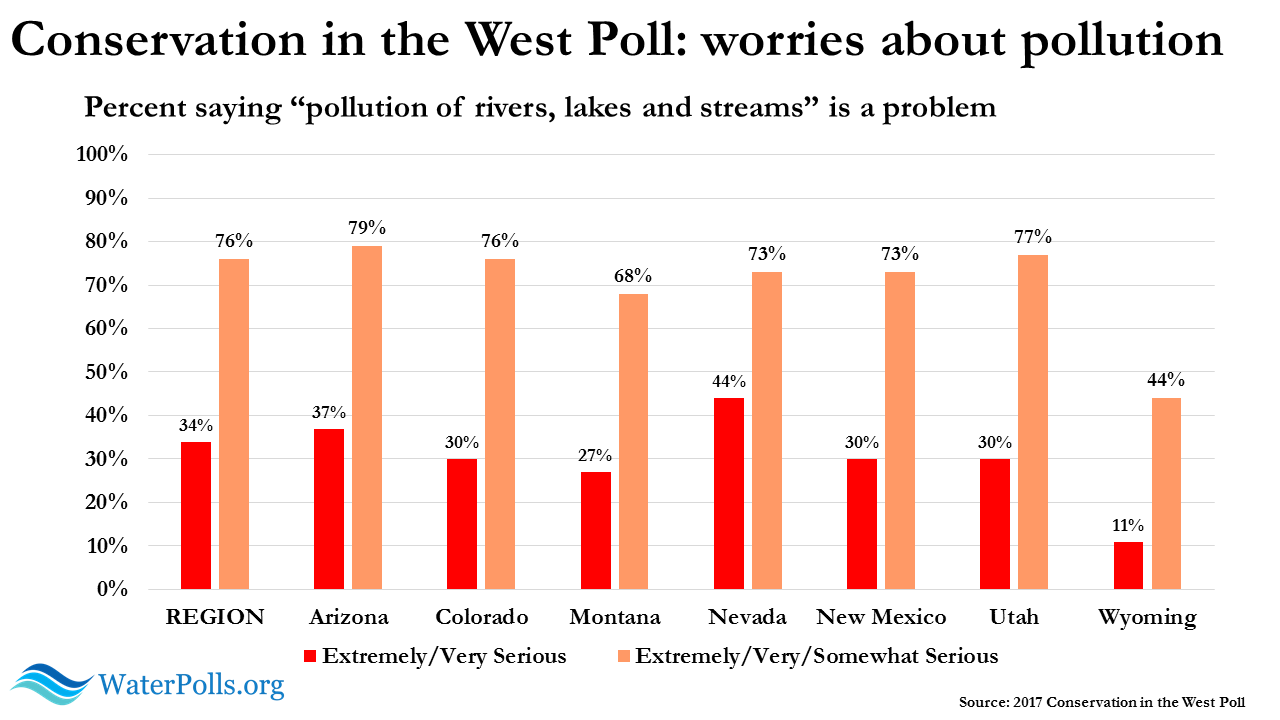 If you'd like to see an alternate visualization of this data, please check out our dashboard page. Below is a screenshot showing how respondents rated the severity of the two water problems discussed above, plus two other issues that are connected to water: "the impact of mining on land and water" and "loss of habitat for fish and wildlife." On the dashboard page, you can include/exclude specific states and answers.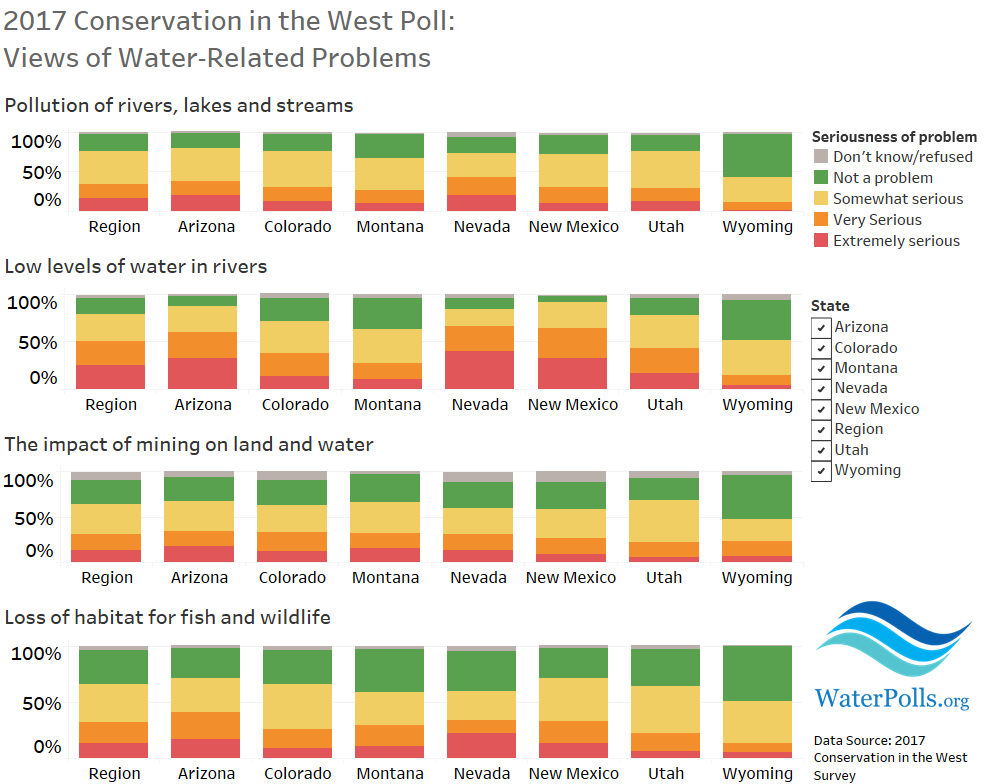 3) Latinos especially worried about water and other problems
With the West's Latino population continuing to grow, the 2017 survey took an in-depth look at this demographic group's attitudes toward water and a variety of other issues. Below is a summary graphic from the pollsters showing that Latinos express higher levels of concern about some water-related issues, especially pollution and the loss of habitat, which are highlighted.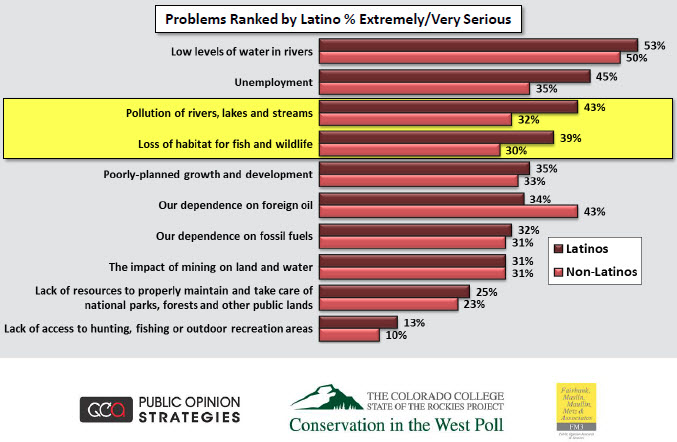 The pollsters issued a separate report on Latino opinion that notes "on other issues, particularly those relating to public lands, Latinos are more aligned with the rest of the population." As I wrote in a recent post on Gallup's 2017 polling, non-white Americans tend to express more concern about their water than whites.
4) Westerners prefer protection over production on public lands
The fate of the West's vast public lands has generated headlines recently due to anti-federal demonstrations, the armed takeover of the Malheur National Wildlife Refuge, and attempts to transfer control of federal lands to states.  This year's survey includes plenty of data on attitudes toward public lands, and while only some of that connects to water, the results generally show a much greater preference for protection over development of these places. In general, Westerners express overwhelming support for conservation over energy production on public lands, but as shown below, Wyoming once again stands out.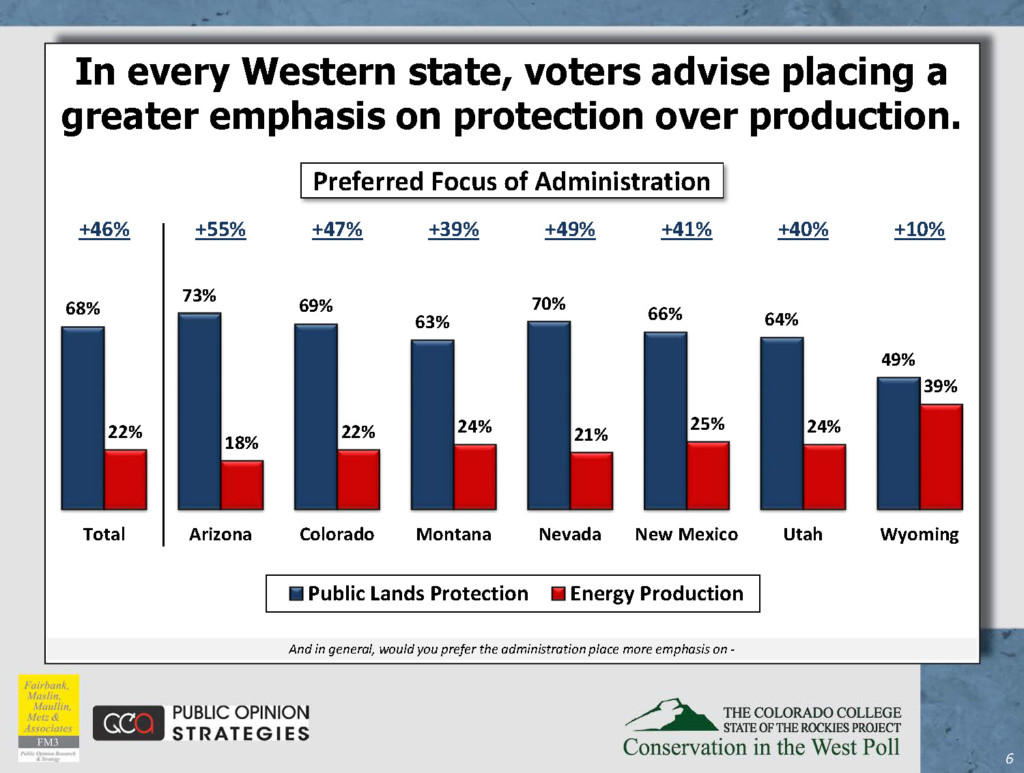 Methodology
Here's a description of the poll's methodology from the press release:
The 2017 Colorado College Conservation in the West survey is a bipartisan poll conducted by Republican pollster Lori Weigel of Public Opinion Strategies and Democratic pollster Dave Metz of Fairbank, Maslin, Maullin, Metz & Associates. The poll surveyed 400 registered voters in each of seven Western states (AZ, CO, MT, NV, NM, UT & WY) for a total 2,800-person sample. The survey was conducted in late December 2016 and early January 2017 and has a margin of error of +/-2.74 percent nationwide and +/ -4.9 percent statewide.
Resources
The State of the Rockies Project's Conservation in the West Poll page is a good starting place to learn more about this survey, which is now in its seventh year. Some other helpful links:
WaterPolls.org aggregates, analyzes, and visualizes public opinion data on water-related issues. Stay informed via Twitter, Facebook, Pinterest, RSS, and email.