Gallup: rising concern over water pollution
Gallup recently released data from its annual environment poll and reported that Americans are more worried about their water than at any time since 2001.
More concern among non-white, low-income Americans
Gallup also reported that non-white and low-income Americans express greater worry about water pollution. "The Flint crisis exemplifies the higher concern lower-income and nonwhite Americans feel about water pollution issues," writes Gallup's Justin McCarthy.
Among whites and higher-income Americans, Gallup has also found rising worries about water in recent years, as shown in the graphic below.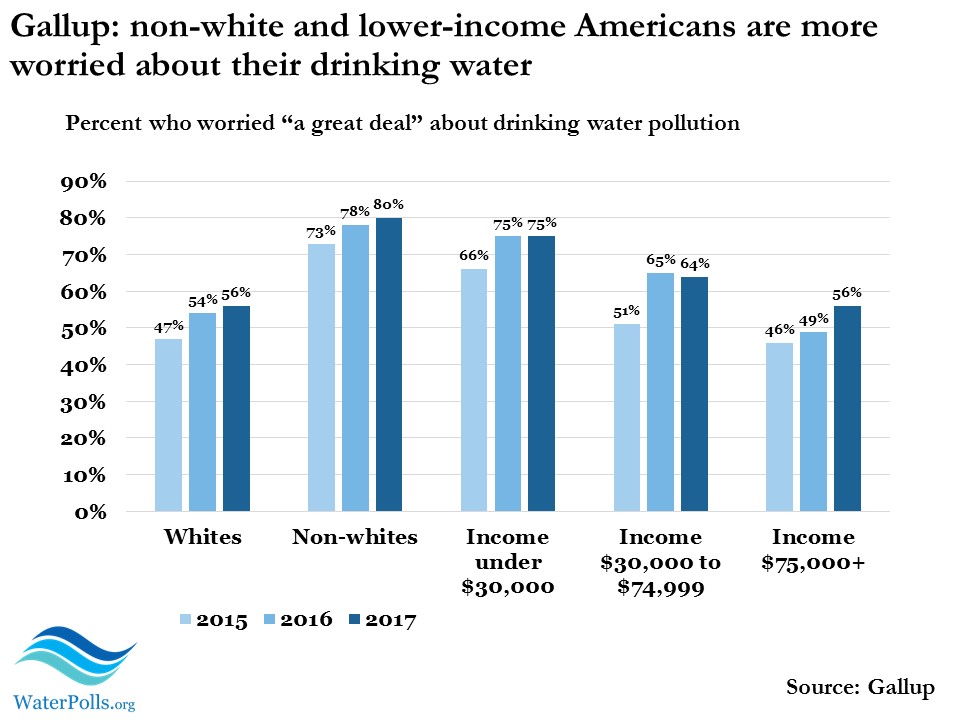 Gallup only reported the top-line results shown above, and it would take a more sophisticated analysis of the data to tease out the varying influences of race and income, as well as other factors.
But other polling, such as a recent survey by the Value of Water Coalition, has also found higher levels of concern about water among non-whites and lower-income Americans. Below is a slide from that survey showing much higher support among those groups for modernizing water infrastructure.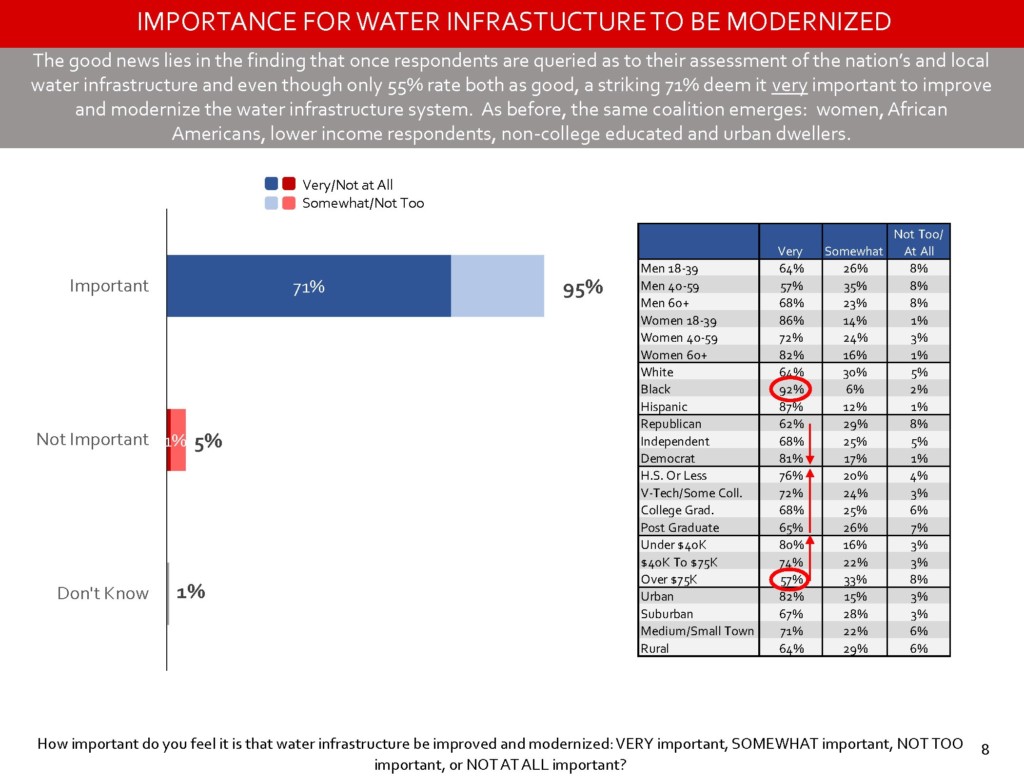 The Value of Water Coalition's pollsters, Linda DiVall and Geoffrey Garin, note that a "coalition of the concerned" emerged from their polling:
"An interesting coalition–women, African-Americans, Hispanics, non-college educated, lower income, and urban respondents–felt it was very important to improve and modernize the water infrastructure system. These groups show the most significant movement towards paying more after being informed of water issues."
Flint is only one example of a lower-income, non-white community being hit by disastrous contamination. Researchers, journalists, and environmental justice advocates can point to plenty of other examples of minorities and the disadvantaged bearing the brunt of water and other pollution, such as predominantly Hispanic farm communities in California not only facing tainted water supplies but also dry wells during the drought.
Water remains top environmental concern
As I noted in a previous post, Gallup has repeatedly found that Americans are more troubled about water pollution than any other environmental issue. I've updated our dashboards with results from Gallup's March 2017 survey of 1,018 adults, which had a margin of error of +/- 4%. Below is a screen shot of one of the dashboards, showing that water pollution has been the most concerning environmental issue for decades: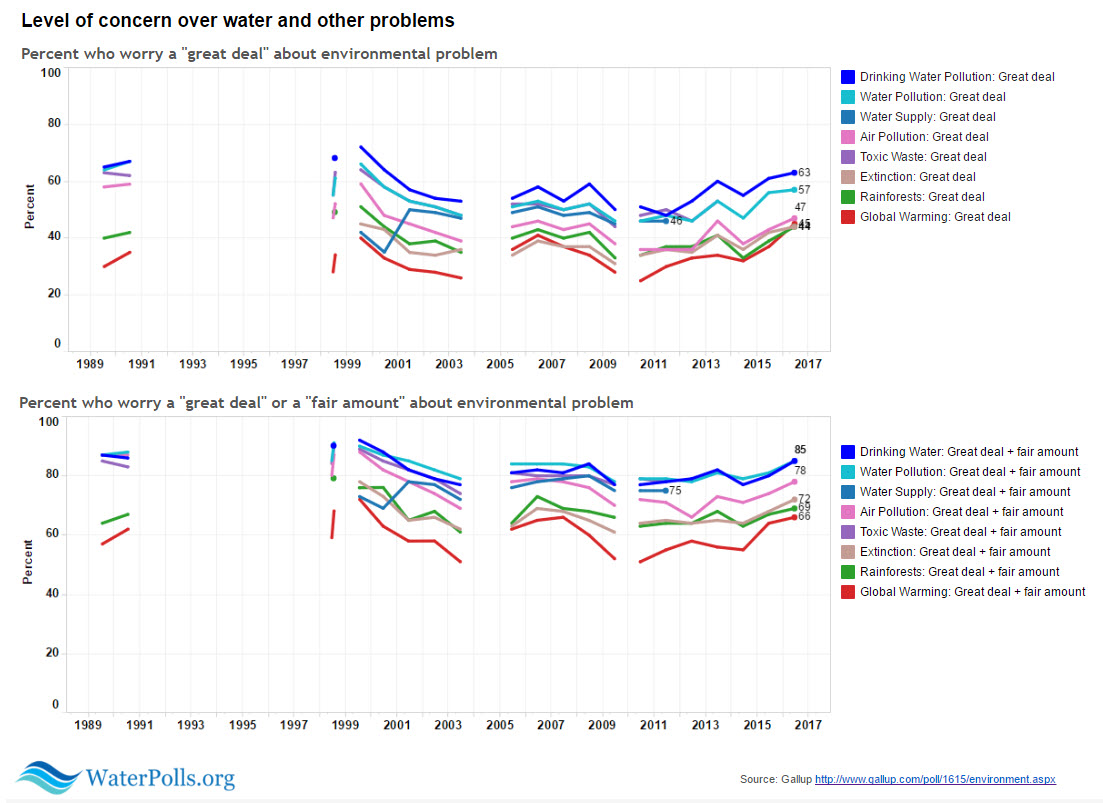 Flint and the California drought are two recent events that have shaped Americans' attitudes to water, but Gallup also notes that the improving economy has influenced public opinion across environmental issues. "Concerns about these issues were highest around the turn of the millennium, and lowest between 2010 and 2012, perhaps reflecting the state of the economy during those times," according to McCarthy. "Americans tend to give a higher priority to environmental matters when the economy is healthy than when it is not."
Although the overall level of concern about water has risen in recent years, McCarthy notes that "Democrats have fueled most of the increase in concern about water pollution since 2012."
WaterPolls.org aggregates, analyzes, and visualizes public opinion data on water-related issues. Stay informed via Twitter, Facebook, Pinterest, RSS, and email.