Updated synthesis and topical pages
Public opinion on water covers a slew of topics, not to mention different geographies, so I've tried to sum up what I've learned in our synthesis and topical pages.
I've updated the synthesis page to include some new findings from recent polls that I've covered on WaterPolls.org. I also added some links to relevant posts if you'd like to learn more about certain issues. Here's a screenshot of part of the page: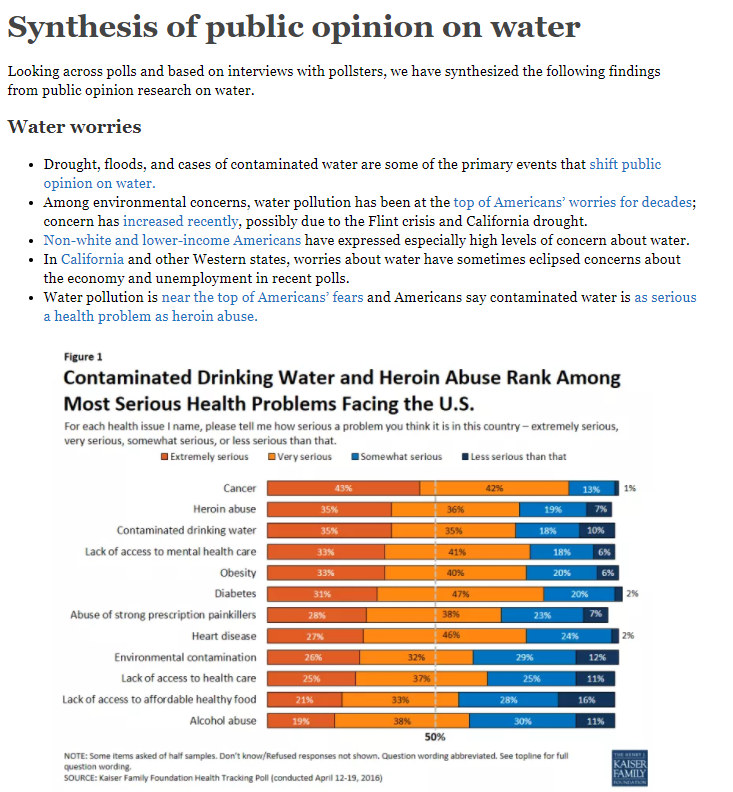 Another way to go deep on a particular topic or place is to check out some pages that I've created on the website to collect relevant contact. Below are some links to the issues and geographies I've covered.
Public opinion on water by issue
Water polling by geography
You can also find content on WaterPolls.org using the built-in search engine. There's a search box in the upper right of the website.
Have a suggestion for the synthesis or want to know more about a particular topic? Feel free to contact me.
WaterPolls.org aggregates, analyzes, and visualizes public opinion data on water-related issues. Stay informed via Twitter, Facebook, Pinterest, RSS, and email.