AP-NORC poll examines link between climate change and severe weather
Nearly 7 in 10 Americans say that weather disasters are becoming more severe, according to a new survey by the AP-NORC Center for Public Affairs Research.
Among those who think the weather is getting more extreme, nearly half believe the trend is mostly or entirely due to climate change while another 39% say it's due to both climate change and natural variability.
The graphic below summarizes the top findings of the telephone and online survey of 1,150 adults, which was conducted September 28 to October 2.
As is typical with climate-related polling, there was a wide partisan divide. While 86% of Democrats said the weather is getting more severe, only 46% Republicans agreed with that statement.
This survey was conducted in the wake of three devastating hurricanes–Harvey, Irma, and Maria–so the influence of those major news events should be kept in mind when interpreting the results. The findings are consistent with an earlier ABC News-Washington Post poll on the impact of climate change on hurricane severity.
The graphic below (click to enlarge) shows some more detail on the question of climate change's influence on severe weather.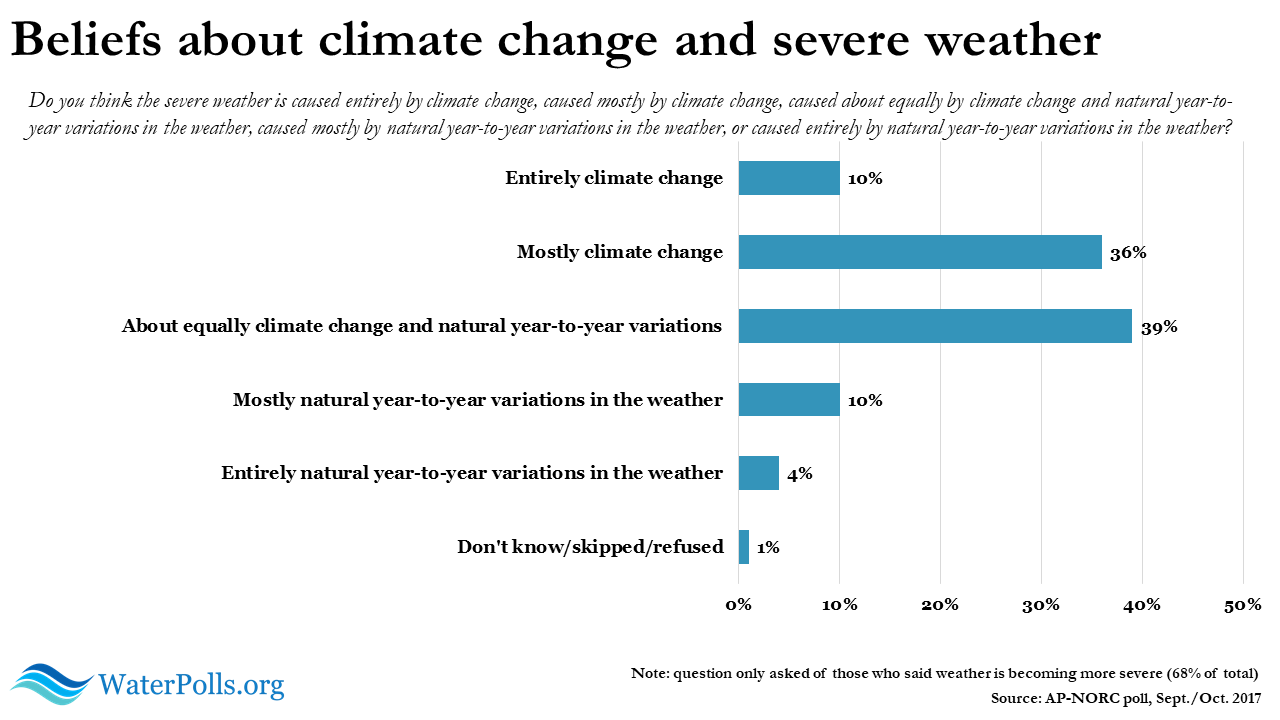 When asked if climate change is happening, 71% of Americans said it is, 12% said it's not, and 17% said they weren't sure. Among those who said climate change is happening or weren't sure, 45% said it's caused primarily by human activities, 38% said it's due to both human activities and "natural changes in the environment," and 16% said it's mostly or entirely due to natural changes.
"More than half of Americans say climate change is very or extremely important to them," AP-NORC reported. "At the same time, two-thirds disapprove of how President Trump is handling the issue. Democrats (79 percent) are more likely than independents (50 percent) or Republicans (27 percent) to say climate change is very or extremely important to them."
AP-NORC has asked some of these climate change questions in previous polls. The graphic below, which includes data from three previous surveys, shows that around 7 in 10 Americans think climate change is happening.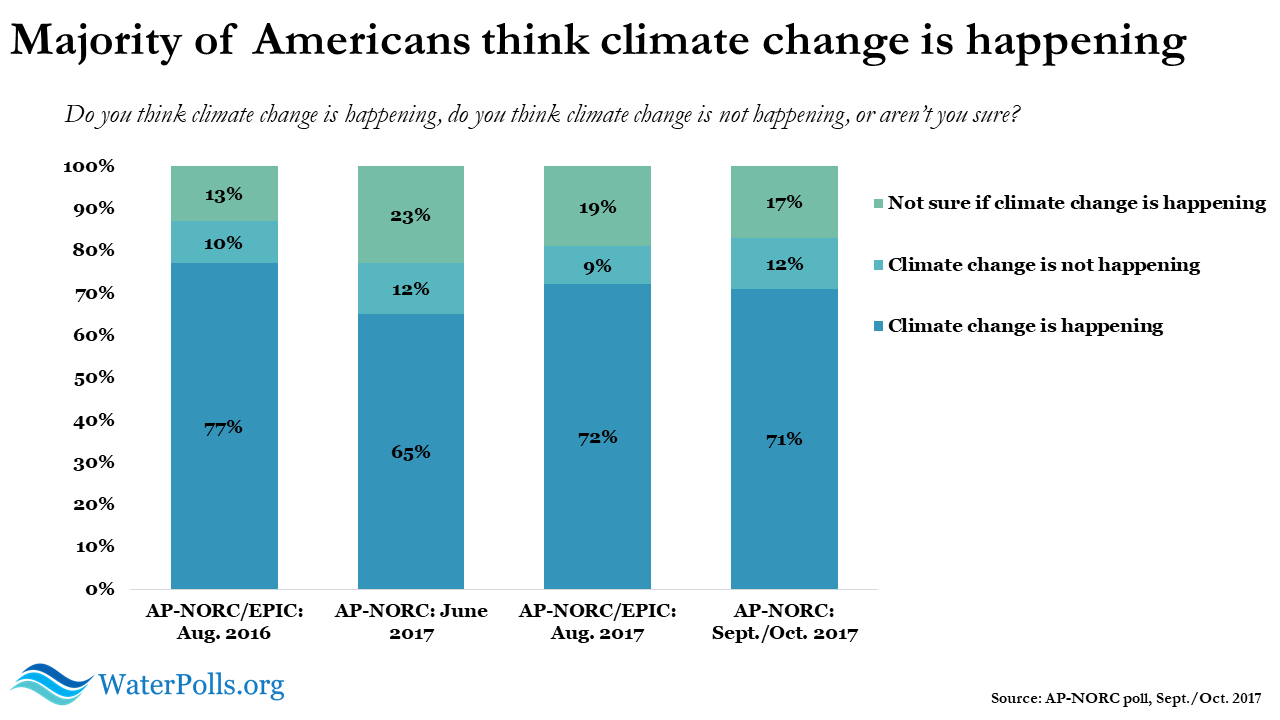 It will be interesting to see if this poll's results hold up over time. So far in 2017, 15 weather and climate disasters in the United States have cost more than $1 billion, as shown in the graphic below from the National Oceanic and Atmospheric Administration. From 1980 to 2016, the average was 5.5 billion-dollar disasters (adjusted for inflation).
Sources
WaterPolls.org aggregates, analyzes, and visualizes public opinion data on water-related issues. Stay informed via Twitter, Facebook, Pinterest, RSS, and email.